Largest UK pro-Palestine protest coincides with Armistice Day – massive crowd march
Live: Largest UK pro-Palestine protest coincides with Armistice Day.
Up to 300,000 pro-Palestinian protesters calling for a Gaza ceasefire are marching from Hyde Park in central London, police say, in the biggest rally since the Israel-Gaza war began.
Police say they have arrested about 92 counter-protesters, including a large number in Pimlico, near the protest route
The Metropolitan Police say its officers face a challenging situation in London.  This large Pro-Palestinian demonstration coincides with Armistice Day.
Scotland Yard deployed nearly 2,000 officers across central London in a major policing operation to prevent any clashes between the marchers and far-Right activists.  Although some clashes reported.
There have been concerns about the risk of counter-protests, particularly around the Cenotaph. The pro-Palestine demonstration, which is calling for a ceasefire in the Gaza conflict routed away from the monumentThe officer in charge of policing London during protest said the force focused on keeping people safe while respecting right to protest.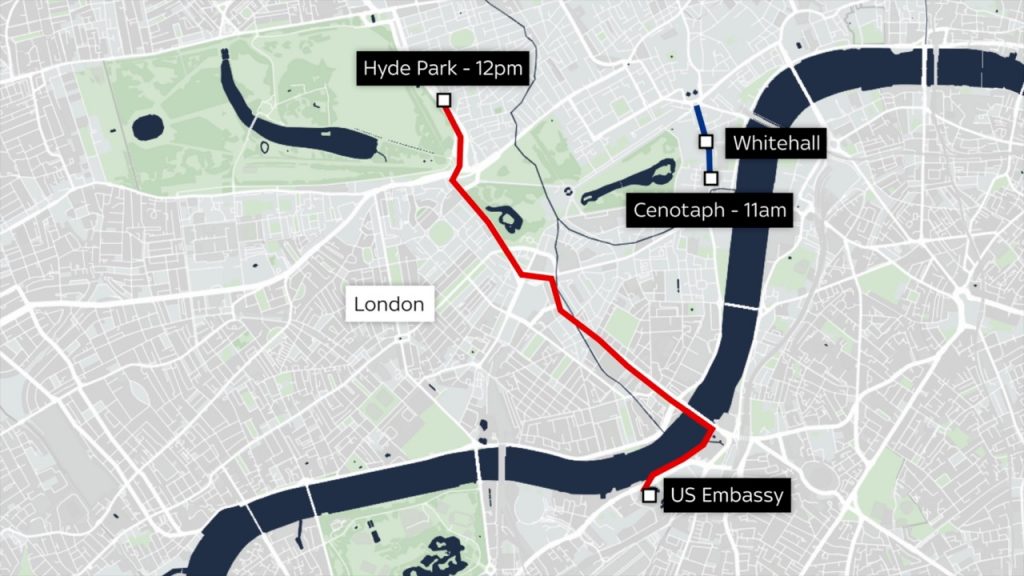 Connect
Subscribe to ynuk.tv daily news feed and be notified and the first to know when new videos or live streams have been posted.
Hope you enjoy your visit.  Let us have your reaction. Drop by our comment box and leave your views on our videos and channel. We're here 24/7 and enjoy chatting.
https://www.facebook.com/YNUKtv
https://twitter.com/YourNewsUKtv
https://www.instagram.com/yournewsuktv
https://www.youtube.com/@ynuktv
Watch scenes LIVE at the Cenotaph https://t.co/39RJxAJn8f well protected by #Police #ArmisticeDay2023 #propalestineprotest #ynuktv pic.twitter.com/avZxquGMja

— YourNewsUKtv (@YourNewsUKtv) November 11, 2023
Massive crowd gathering for #ProPalestine march view LIVE https://t.co/39RJxAJn8f starts from Hyde Park 12:30 to American Embassy in SW11 #ProPalestine #Gaza #Israel #protestlondon #ynuktv pic.twitter.com/d1h184bqAt

— YourNewsUKtv (@YourNewsUKtv) November 11, 2023
Large crowd of #ProPalestine protesters nearing American Embassy view LIVE https://t.co/39RJxAJn8f it might be a tight squeeze for them #protests #londonmarch #ynuktv pic.twitter.com/hLihJl6yUz

— YourNewsUKtv (@YourNewsUKtv) November 11, 2023